1 room / Ismail, 58/1
Apartment ID: 47 / Center
This price is available for today night 6 December 2023 from 17:00 until 12:00 of the next day.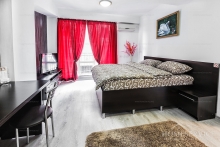 Summary
Very stylish one bedroom apartment in a new building. Located at the intersection of Stefan cel Mare and Ismail street (the store 'Alina Electronics').
Decorated in European style, modern design, nice and clean yard.
Paid guarded parking near the house.
The apartment is fully meets all requirements: have cooking facilities, fridge , washing machine, electric kettle, microwave. Comfortable furniture. Balcony for smoking. Flooring - laminate. Bathroom equipped with shower.
Clean linens and towels.



New building
Air conditioning
Elevator
balcony
WiFi

4

Floor
Details:
Individual heating
equipped with appliances
parquet
furnished
supermarket
Cable TV
internet
Insulated glazing
Contact us about renting:
Mobile:
+373 602 111 22
+373 605 774 77
E-mail:
info@homeservice.md
Book now
Apartment on the map
Check-in: from 14:00
Check-out: until 12:00